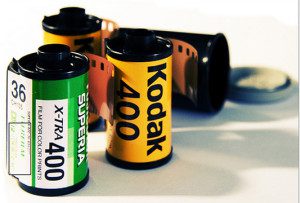 Remember the days when you took that precious, finished roll of film to the drug store, and put it into the hands of the photo finishing technician, and waited patiently for an hour, or even a few days, before you could see the memories of your Christmas Day? (You probably even ordered doubles so that you could give a copy to grandma & grandpa!)  And you prayed that everyone had their eyes open in the group shot, and that no one's head was blocked, and that your little sister didn't move at the last second causing a blurry blob at the bottom of the picture?
Digital photography has allowed us so much freedom when taking our photos (eyes closed? no problem – retake!), but what about after the perfect photo is taken? Maybe it's uploaded to Facebook or Instagram for the immediate gratification of likes and comments (I am SO guilty of this!). Maybe you flip back to it on your iPhone every now and then when you need to smile. Maybe it gets lost in the hundreds of other digital files on your computer or phone.
This year, one of my resolutions is to make sure those images don't get lost in the digital void. I've got a decent hard-drive set-up for digital file storage, so I know I won't be losing anything.  But it seems so…..impersonal. How often am I really going to hook up the hard drive and scroll through all those hundreds of images on my laptop?
So, I decided to invest in some photo books this year. I have already made one to document my son's first year, and we have one from our wedding and first year of marriage (YEARS ago!). But many of our other photos, even those from "official family photo shoots", have just been transferred to the hard drive and mostly forgotten.
This morning, I dusted off iPhoto on my Mac so I could create and order one featuring our 2013 family photo shoot (iPhoto is awesome that way – created and ordered from my laptop in under an hour), and I've got plans to do another one for our 2014 family photo shoot, as well as one for my son's second year, and also for the maternity photos I had done in early 2013.
I like the idea of having physical books to flip through in the years to come, of having something to pass on to my son when he's older.
I love the visual coziness of having a shelf of photobooks, spines facing out, memorializing each year and special occasion of our lives.
And I'm filled with a deep satisfaction, knowing that these images won't be forgotten in the confusing labyrinth of my hard drive folders.
Our memories are held here, in photos, and I want to make sure they are preserved, and remembered.
I'm curious – what do you do with your digital photos? I'd love any new ideas!