It was an accident.  A completely tragic accident.
When a family member was asked to take all my grandma's old travel photo albums to the burnpile at his farm, after she passed away, he accidentally grabbed ALL our photo albums.
That included the album with photos from my first year of life. It included the "Eran" photo album, that had kittens on the cover and contained photos from my entire childhood.  It included albums of photos from our trips to Disneyland, from annual camping trips, from countless birthday parties, from first days of school.
Just typing all that out is incredibly emotional for me.
I can still see some of those photos in my mind's eye. The photo of my great grandma Susie, holding me as an infant.  The photo of me, holding my tiny newborn sister. The photo of me on the first day of kindergarten, wearing a pink & green outfit, holding my lunchkit proudly, standing next to our old brown Nova. The photo of me and my two kindergarten besties, Amanda & Stacy – two cowgirls and a punk rocker – all dressed up to go trick-or-treating.  The photo of the butterfly cake that my mom made for me for my birthday.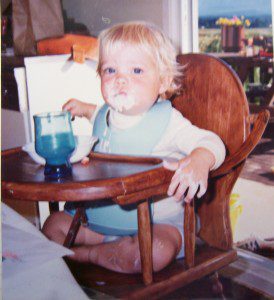 PINIMAGEThis is one of the only photos I have left from my childhood – somehow it was saved from the burnpile (I think I took it to university with me).  I have a few others that I've pieced together from various family and friends, but only a couple dozen.
I would spend hours pouring over that kitten-covered photo album as a child, smiling at my own smile on the pages.  And I'm so glad that I did because those memories – those images – are thankfully burned into my memory.
And I'm so glad that my parents took to time to take those photos, and to preserve them in an album that I could look at with wonder.
It's no surprise to me that my toddler is now obsessed with flipping through the photos on my iPhone, or watching the videos of himself singing "The Wheels on the Bus." He's the modern-day version of me.
I'm not really sure what the message of this post is, except that I hope that all of you reading this are aware of how important those photos you are taking are. Even the quick snapshots on your iPhone – they are important. They are forming a foundation of memories for your kids.
One day, they won't remember their 2nd birthday party in detail.  Or they'll know they went to Disneyland at some point, but they won't remember the exact year or what character they stood in line to take a photo with.  But you'll have the proof.  You'll have those memories.
Your photos are important.
Save them. Show them to your kids, even if they ask for them on repeat. Print them. Preserve them. Hang them on the wall. Put them in an album. Pass them on.
Love them. Treasure them. These are what your children's memories are made of.