There aren't many things that I love more than awesome women who are taking big steps to do something they've always wanted to do.  When I did my casting call for my new Personal Branding Experience sessions, I was hoping that I would be blessed with applicants just like this – and wow, I had quite a few to choose from!  Kat's application stood out to me particularly because she wrote the following: "Yes I am covered with tattoos and have blue hair, so I'm not your typical candidate, but that could make the project that much more exciting!" That sold me! I love Kate's individuality, and even more, I love that she is making the leap towards writing her first book.
After a quick look over her personal branding questionnaire, we decided to hold her session in the comfort of her own home.  I met with her ahead of time and chose some great outfits, that not only showcased her awesome hair and tattoos, but that also gave her an approachable yet wise demeanour.  We also scoped out the perfect locations in her home that highlighted not only that she is writing about the power of meditation, but also that she is well-versed in all things new age. I adored working with Kate, and I can't wait to read her first book!

PINIMAGE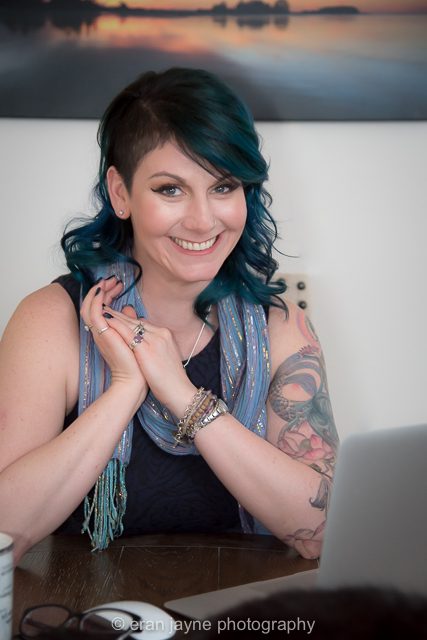 PINIMAGE

PINIMAGE

PINIMAGE

PINIMAGE

PINIMAGE

PINIMAGE

PINIMAGE

PINIMAGE

PINIMAGE

PINIMAGE

PINIMAGE

PINIMAGE

PINIMAGE

PINIMAGE

PINIMAGE

PINIMAGE
Eran Sudds is a Vancouver personal branding photographer, who specializes in capturing your unique brand and persona on camera. Her Personal Branding Experience package includes a pre-session questionnaire, a consultation call, multiple branding resources & tips, session preparation advice, and a 2 hour photography session with make-up & hair.